It is with great regret that I have received word that a long time member has passed away. There is an article on AL.Com that can be found here.  I have copied the information below.
JACK RAY CROCKETT
1928 – 2017 Obituary Condolences Flowers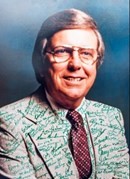 Jack Ray Crockett, 89 of Birmingham, passed away on Tuesday, November 07, 2017. Jack grew up in Ft. Worth, TX and attended TCU. After over 40 years, Jack retired from Employer's Casualty Company out of Dallas, TX. He was an avid golfer, a Bama fan, and very much enjoyed traveling with family. He and his wife, Yvonne lived in both Dallas and Oklahoma City before settling in Birmingham. They are members at Trinity United Methodist Church. Jack could be described as honest, honorable and kind. He will be dearly missed. Mr. Crockett is preceded in death by his son, Randy Foy Crockett; grandson, Jeff Crockett; granddaughter, Christin Crockett; and brother, Jim Crockett. He is survived by his loving wife of 69 years, Yvonne Foy Crockett; sons, Ray Crockett (Karon), Kent Crockett and Keith Crockett; daughter, Kathy Starks (Bob); grandchildren, Carrie Sammons (Joel), Natalie Poole (Langston), John Crockett, Spencer Crockett, Randal Crockett and Manning Edson; great grandchildren, Jonah Sammons, Lucy Sammons, Jeff Poole, Wyatt Crockett, and Bo Crockett. Also left to cherish his memory are many other loved ones and friends. The celebration of Jack's life will be at 11am on Friday, November 10, 2017 at Southern Heritage Funeral Home, with visitation beginning at 10am.
Published in The Birmingham News on Nov. 8, 2017
In Memory of Mr. Crockett,
The ALBluegoose Pond,
Jett